In early 2005, with optimism that more could be done to protect Canadians from environmental threats, and frustration that the needs were great but the funds were scarce, three healthcare professionals (Drs. Alison Bested, Annette Lorenz, and Lynn Marshall) sought the advice of a highly experienced financier (Mr. Joe Janthur), who guided us through the process to incorporate a charitable foundation: the Environmental Health Institute of Canada (EHI-Canada). The Ontario Letters Patent as a charity were approved on February 24, 2006, and application was then made to the Canada Revenue Agency for tax-exempt status as a registered charity under paragraph 149(1)(f) of the Income Tax Act. We were notified by the Canada Revenue Agency on October 29, 2007 that this status as a Charitable Organization had been granted effective September 1, 2007, # 85886 5926 RR0001.
The Board was expanded over the years to include Mr. Charles Janthur, a businessman and teacher of business, marketing and international trade at University of Guelph, Ryerson University and Humber College (2008-present),  and Ms. Eleanor Johnston, a long-standing supporter for patients (2015-present) and, as their time would permit, Ms. Theresa McClenaghan, Executive Director of the Canadian Environmental Law Association (2008-2012), succeeded by Ms. Kathy Cooper, Senior Researcher and author at the Canadian Environmental Law Association (2012-2019), and lawyer and family court judge Ruthanne Bowker (2019-2020). The latest to join the EHI-Canada Board (2019-2020) has been Dr. Christine Oliver, an experienced Environmental and Occupational Health physician recently moved to Canada from the Massachusetts Institute of Technology. Sadly, Mr. Joe Janthur died in 2017.
Our Information Technology (IT) Consultant was Mr. David Powell (2007-2019), who retired and was replaced by Web Designer and Consultant Mr. Robert Huff (2019-present).
VISION AND MISSION
Our Vision
Healthier people in healthier places
We at EHI-Canada admire and indeed aspire to the United States Centers for Disease Control's vision of "Healthy People in Healthy Places". We agree with Toronto Public Health which states they consider health and environment to be "partners for life" on their "Healthy People Healthy Environment" information website. We also agree with Research Australia that "Achieving a population of HEALTHY PEOPLE requires a HEALTHY PLANET to ensure the fundamentals, and HEALTHY PLACES in which to live, work, interact and play" (McMichael Tony, Steering Committee Chair. Healthy planet, places and people, Research Australia, 2007:8).
We also recognize the following realities:
Perfection is not likely attainable given the multiple genetic endowments, ages and stages of people and the complexity of their various and continually varying environments
While pollution knows no jurisdictional boundaries on our planet, the ability to prevent or reduce it definitely does.
Hence, at EHI-Canada we will work continuously towards improvement in the health of people and the places they inhabit, utilizing whatever resources are available to us.
Our Mission
Partnering towards healthier people in healthier places
We at EHI-Canada recognize that we cannot accomplish our vision working in isolation. Hence, our mission is to collaborate with many other key partners to continually leverage individual efforts towards the mutual goal of improved human health through better protection from exposure to hazardous substances in the environment.
EHI-Canada envisions being an international leader in the coordination and exchange of environmental health information for the ongoing benefit of citizens, communities and governments.
Our Symbol
We chose the Inukshuk as EHI-Canada's symbol for several reasons:
It is well-recognized as a Canadian symbol.
It connects us with Canadian indigenous people, some of whom (the Inuit) have long used Inukshuk as guideposts in the northern wilderness.
The Communications Officer of the Inuit Tapirisat in Ottawa informed us that the Inukshuk is in the public domain, and that an exchange of cultural icons was recommended by the Royal Commission on Aboriginal Peoples in 1996.
While its pattern is instantly recognizable (symbolizing stability) and its feet are firmly planted on the earth (symbolizing practicality), its component rocks can come in different shapes and sizes (symbolizing flexibility).
It has a 'looking forward' meaning.
It stands on the earth, but it also relates to the air and water as we all do.
---
Board Members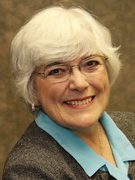 Dr. Lynn Marshall
Chair of the Board and President
Dr. Annette Lorenz
Director


Mr. Charles Janthur
Treasurer and
Director
---
Dr. Alison Bested
Director
Ms. Eleanor Johnston Director
Dr. Christine Oliver
Director
---
Robert Huff
Web Designer and Consultant