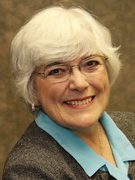 DR. LYNN MARSHALL
Chair of the Board and President
After graduating with an M.D. from Queen's University and completing a rotating internship at St. Joseph's Hospital in Toronto, Lynn did further broad-based postgraduate training and practiced in comprehensive primary and emergency medical care in the 1970's in Wollongong, Australia, and Arnprior, Ontario, where she was an Active Staff Member at local hospitals.
She became interested in Occupational and Environmental Health and did further training, earning a Fellowship in Environmental Medicine from the American Academy of Environmental Medicine. In Arnprior, she developed Employee Health Programs for two companies, an Exposure History questionnaire, which has been updated several times and was published in the Canadian Medical Association Journal, utilizing questions framed according to the mnemonic CH2OPD2, or Community, Home & Hobby, Occupation, Personal exposures, Diet & Drugs. She also developed a Hearing Conservation Program to protect employees from noise-induced hearing loss, which was adopted by the Ontario Industrial Accident Prevention Association.
In addition, she studied how people cope with complex health problems, by participating in accredited courses and supervision at the Children's Hospital of Eastern Ontario, the Royal Ottawa Hospital and with the General Practice Psychotherapy Association, now the Medical Psychotherapy Association of Canada.
From 1980-1991, Lynn had a dual consulting practice in Arnprior in Environmental Health and General Practice Psychotherapy, but then moved to the Toronto area (because of her husband's promotion), where she served as a Research Associate at the new University of Toronto Environmental Sensitivities Research Unit. She completed eight Masters level courses in Epidemiology and Biostatistics, in addition to a research project developing and pre-testing a reproducible questionnaire that was used in six peer-reviewed published studies on Environmental Sensitivities, which Lynn co-authored.
In 1994, Lynn was asked to serve on a Clinical and Research Advisory Board to the Ontario Ministry of Health (along with Eleanor Johnston), and assisted the start-up in 1996 of the provincially-mandated, University of Toronto-affiliated Environmental Health Clinic (EHC) at Women's College Hospital. She worked in the EHC as a Staff Physician, Medical Director, and Medical Education Liaison, and she and Dr. Alison Bested developed a simple educational strategy for assisting patients to take charge and "plant SEEDS of health", SEEDS being an easy-to-remember acronym for Sleep, Exercise (Pacing), Environment, Diet, and Support. This framework encouraged the physician and patient to work in partnership to deal with the specific determinants of each individual's health issues. She developed educational projects such as the Environmental Health Clinical Reviews, an annual series of accredited rounds for healthcare professionals. She also collaborated with psychologist Dr. Annette Lorenz in an annual "Planning for Health" group and individual coping strategies program.
As the EHC's Medical Education Liaison, she continues to connect with community organizations and coalitions to advance environmental health protection and promotion. For example, she is the EHC's medical representative in the Healthy Indoors Partnership, the Canadian Partnership for Children's Health and the Environment, the Canadian Coalition for Green Health Care, and also the Allergy and Sensitivity Association of Quebec.
Lynn is an Assistant Professor of the Department of Family and Community Medicine at the University of Toronto and the Clinical Sciences Division of the Northern Ontario School of Medicine, Laurentian and Lakehead Universities, and is a Canadian Institute of Child Health "Master Trainer" of World Health Organization modules on children's health and the environment. She has taught both medical and other health professional students, as well as graduate physicians.
Lynn is Past President of both the Canadian Society for Environmental Medicine and the American Academy of Environmental Medicine, and has been elected a Fellow of the Royal Society of Medicine in Great Britain (now retired) and a mentor of the Women's Healthy Environment Network. She is a member of numerous professional associations, such as the Canadian Association of Physicians for the Environment (CAPE) and the Occupational and Environmental Medical Association of Canada (OEMAC). She is the chair of the Guidelines Task Force of the Professional Development Committee of the Medical Psychotherapy Association of Canada, which in 2007 wrote "Guidelines for the Practice of Psychotherapy by Physicians", that was updated in 2017.
Lynn has received Environmental Health Awards from the College of Family Physicians of Canada, the Canadian Association of Physicians for the Environment, the Canadian Society for Environmental Medicine, and three times from the American Academy of Environmental Medicine, as well as the Theratree Award of the Medical Psychotherapy Association of Canada, and the Power of Humanity Award from the Canadian Red Cross- Ontario Division.